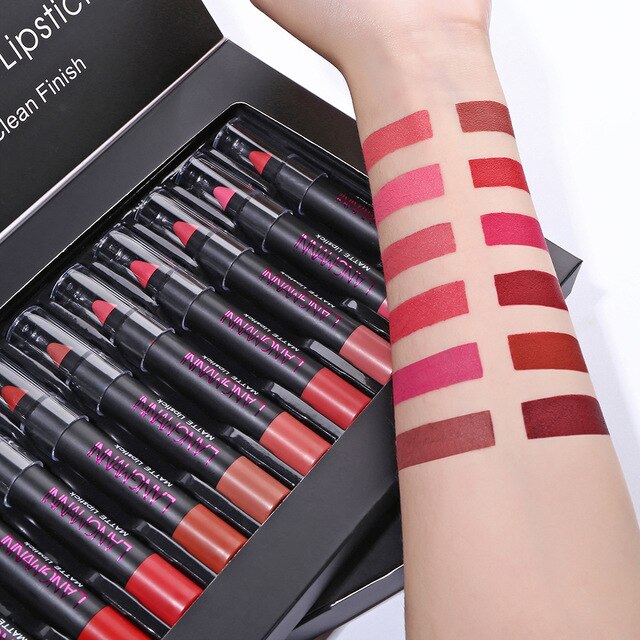 "I AM IN LOVE. I love the lipstick kit already. I received this product in July 2020. I haven't been able to find one that lasts, until today! LOVE LOVE LOVE"
b
Whitney Simmons. ✅ Verified Buyer
b
A bold lip is a perfect accessory for any occasion— until suddenly, you catch a glimpse in the mirror a few hours in and realize your masterpiece has turned into a hot mess, thanks to a few hours of eating, drinking, and possibly a little kissing. You start questioning yourself, how long has it looked this way? how do I keep this from happening? How can I avoid this? 
Our Captivating Matte Lipstick Set instantly gives a radiant Wow look. Rich, waterproof, food proof, and long-lasting features for you to look and feel your best without worry! Definitely, a must-have for your lipstick collection, we are confident you will love this set!
WHY WOMEN LOVE THE CAPTIVATING MATTER LIPSTICK SET
✅ 100% BRAND NEW HIGH QUALITY: With 12 fantastic colors from discreet nude shades to bold and vibrant shades suitable for any skin type and season. Each lipstick is easy to apply to provide matte drying and transfer-resistance. 
b
✅ LONG-LASTING PROTECTION: The key features of our lipstick set is the quality protection to ensure a vibrant look beyond 8 hours! Each of the 12 lipsticks is waterproof, food proof, kiss-proof, and smudge-proof. They also have an active moisturizer so it will not dry out your lips!
✅ BRILLIANT COLORS FOR ALL: The main focus for each lipstick is to provide the most vibrant radiant colors possible! Each of the 12 lipsticks come in a different color with different undertones. 
✅ MATTE FINISH EASY REMOVAL: Providing a smooth texture & beautiful shade combing with a matte finish is a recipe for success. It is very easy to remove the lipsticks with a makeup remover and being super lightweight you will not feel the lipsticks on.
CRUELTY-FREE & VEGAN ALWAYS 
*This product has been dermatologist-tested for the most sensitive skin.
PRODUCT REVIEW


Every now and then we are caught staring at beautiful women on TV, almost drilling at their perfectly done makeup especially those rose-red lips! How do they even keep that bright and vibrant lipstick in place? How often have we raged over our lipstick color fading away even before the part was over?
Let's solve this problem with our Captivating Matte Lipstick Set. Indulge in maximum lip coverage and the highest quality color intensity in all of our rich must-have shades, giving you that runway look and feel!
100% Money-Back Guarantee

We believe our products are some of the best in the world. To back this up, we provide all customers with a 30-day RISK-FREE warranty.
We understand buying items online can sometimes be a daunting task and want you to feel certain that there is 
ZERO
 risk shopping at
GRAVTECHS®.