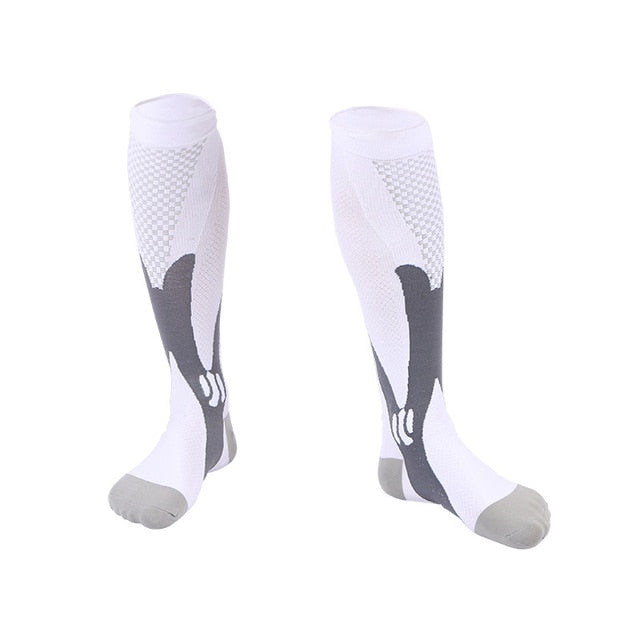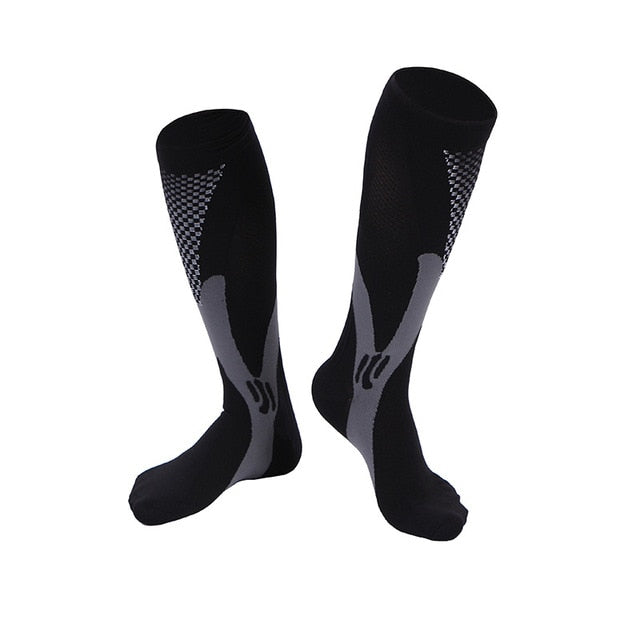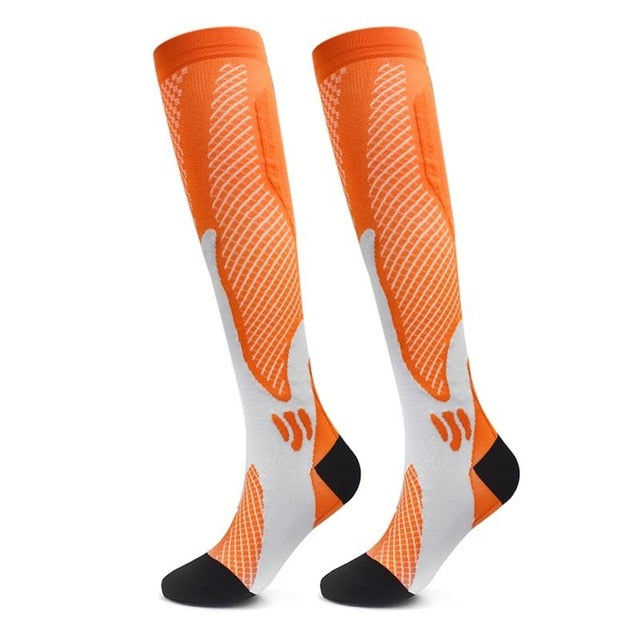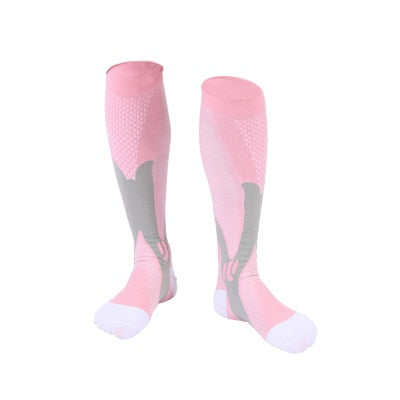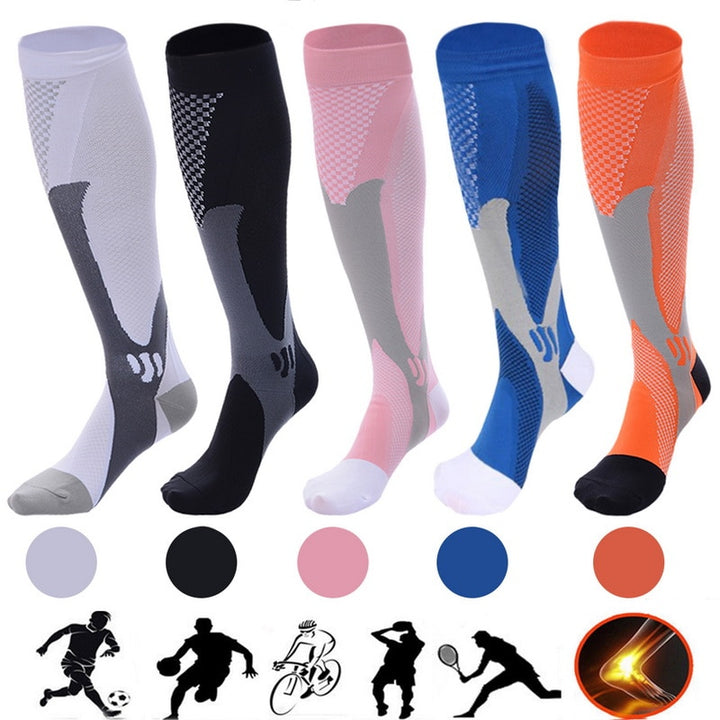 I tweaked my achilles tendon this summer. I had a fair amount of swelling and discomfort. I noticed that applying some pressure on the ankle took some of the discomfort away. I bought these sock and noticed a decrease in pain, and when I took them off at the end of the day a significant decrease in swelling in the ankle and foot area. I would recommend these socks to anyone having swelling- and for some discomfort relief.
Bret A. Helle ✅ Verified Buyer
Whether your a top athlete or a hard worker who's on your feet at all times of the day leg/feet pain is an effect of all the grind you put in. If you fall into this category you might have experienced pain or unwanted veins on your legs but couldn't find a solution to prevent that. 
Leg pain is a problem we cannot ignore as it can lead to stress and further issues. 
 The FLEX ™ Compression Socks is the perfect sock for those who want to boost work performance, reduce calf pain, have better Blood Circulation, and a faster recovery!
WHY TRAVELERS, ATHLETES, AND ESSENTIAL WORKERS LOVE FLEX™ COMPRESSION SOCKS
✅ COMPRESSED RELIEF: Utilizing the top compression technology to promote blood circulation, FLEX™ Compression Socks, will reduce cramping, shin splints, swelling, etc...leading to less lactic acid reducing muscle fatigue, and boosting stamina!
✅ SCIENTIFIC RESULTS: Employing 20-30 mmHg compression, which is the most frequently prescribed compression socks adds the benefits of treating mild to moderate conditions. Relief from varicose veins, edema, deep vein thrombosis, and other diseases is possible.
✅ COMFORTABLE & DURABLE: The FLEX™ technology boasts power+ premium performance nylon fabric! The top of the line circular knit structure delivers 360-degree stretch for greater flexibility with non squeeze tech to let aching joints breathe.
✅ SWIFT RECOVERY: Say Good-Bye to your Leg Pain! Calf strains and cramps are no more. Lightweight but compressed enough to allow oxygen flow from your feet to ankles to calf and shins allowing faster recovery!
WHO SHOULD WEAR?
FLEX™ Compression Socks covers many medical problems and boosts performance. See if you fit the criteria!
Athletes: Runners, Joggers, Basketball Player, Football Player, Travelers, Marathon, Cross Training, Gym Workouts, Hiking, Trekking
Patients: Edema, Diabetics, Varicose Veins, Pregnancy, Reduce Shin Splints, Nursing
Essential Workers: Nurses, Doctors, Teachers, Construction Workers, Couriers, Porter, Chefs, Line Workers, and Restaurant serving staff.
When we're on our feet all day either exercising or working leg pain just comes with the hard work, we cant change that. Unwanted veins, calf strains, and cramps kill our bodies as well as our confidence.
Being able to perform at our best means eliminating the problems that limit us by investing in ourselves. The FLEX™ Compression Socks are the essential buy to getting our bottom half back to 100%! 
100% Money-Back Guarantee

We believe our products are some of the best in the world. To back this up, we provide all customers with a 30-day RISK-FREE warranty.
We understand buying items online can sometimes be a daunting task and want you to feel certain that there is 
ZERO
 risk shopping at
GRAVTECHS®.
| | |
| --- | --- |
| WOMENS SIZE (US) | MEN SIZE (US) |
| SHOE SIZE: S/M: 6-10.5 | S/M: 6-9.5 |
| SHOE SIZE: L/XL: 9.5-13.5 | L/XL: 8.5-13 |