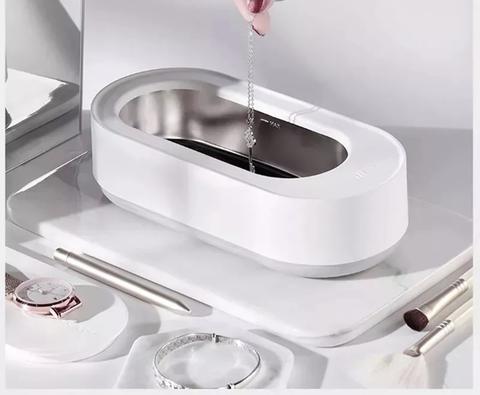 Bought it about a week ago, and used it three times on my watch, wedding ring, and my wife's watches and rings. It is easy to use. I always run it for 3 min as the manual recommended, but the last time I used hot water rather than cold water, and I saw a big difference. It is much cleaner and shiny. Give it a try.
⭐️⭐️⭐️⭐️⭐️
Alex Hernandez ✅ Verified Buyer
b
Glistening jewelry and accessories help enhance one's beauty symbolizing elegance, art, self-expression, and precious memories. Every piece should sparkle, but exposure to dust and dirt, lotions and moisture, even air can dull your favorite accessories over time and rob them of their gleam. Professional jewelry cleaners charge up to $100 for a single cleaning which is expensive and time-consuming.
The Flawless Sonic Cleaner is a professional yet compact machine that utilizes ultrasonic technology to sanitize jewelry and accessories helping to preserve the radiance. Each Sonic Cleaner builds confidence through a promise of exceptional quality, effortlessly refining each piece. Polish and shine your precious pieces at your convenience and make jewels and accessories look lustrous once again!
WHY YOU'LL LOVE THE FLAWLESS SONIC CLEANER
✅ PROFESSIONAL QUALITY: The Flawless Sonic Cleaner focuses on the parts of jewelry and accessories that are ordinarily unreachable when cleaning manually. This allows for an item to be perfectly sanitized at a professional level!
✅ GENTLE DEEP CLEAN: Utilizing 45,000 Hz of ultrasonic power, the Flawless Sonic Cleaner creates millions of nanoscopic cleaning bubbles. This gently but effectively lifts dirt and grime without the need for any harsh chemicals!

✅ EASILY SANITIZE: Water is the only component that needs to be added, let the ultrasonic waves do the rest! Watch in awe as precious pieces lose the grime and shine like brand new.
✅ UNLIMITED USE: Flawless Sonic Cleaner effectively polishes anything that can fit inside the casing. Every day essential items such as eyeglasses, toothbrushes, keys, razors, and many more can be sanitized!
✅ SAVE MONEY + TIME: The durability of the Sonic Cleaner provides professional polishing for years to come. Save time and money by ditching jeweler cleaning services that can cost up to $100 per piece. 
✅ PROTECT ASSETS: Safeguard delicate pieces and allow for a gentle cleaning as often as necessary! There is no need to disassemble jewelry or any other accessories when using the Sonic Cleaner.
HOW TO USE
We understand the importance of dazzling jewelry and accessories, as it is used to highlight the natural beauty of its wearers. Oftentimes we receive these valuables as gifts and wear them on significant days to enhance our overall style, or symbolize a memory or a person that is dear to our heart. Cherished jewelry gathering dust in a drawer has a high chance of scratching and tarnishing without the proper treatment.
With the Flawless Sonic Cleaner, take a huge sigh of relief in knowing that jewelry and accessories can be kept in pristine condition! The Sonic cleaner does more than clean jewelry, it brings back a sense of security, prosperity, and beauty. Revamp dull jewelry and invest in the protection and shine of precious pieces for an impeccable clean!
CUSTOMER TESTIMONIALS
100% Money-Back Guarantee
At MODERN FLEX™, we believe our products are some of the best in the world. To back this up, we provide all customers with a 30-day Money Back Guarantee with no questions asked! When you purchase from us, there is ZERO Risk for you!
Congratulations!
You've found a hidden discount code! Use code "SONIC" at checkout to claim an additional 10% OFF your ENTIRE order!
Customer Support:
Email:
info@modernflexshop.com
Phone: +1-(800) 618-3672
Instruction Manual 1X, Power Adapter 1X, Certificate 1X
Power (W): 

15w

Voltage (V): 

12V

Steam Duration: 

10-15 minutes

Unit Type: 

1piece

Package Weight: 

0.66kg (0.11lb.)

Package Size: 

10cm x10cm x 10cm (3.94in x 3.15in x 7.48in)

Color: 

white

Timing time: 

3 minutes

Product material: 

ABS SUS304 stainless steel