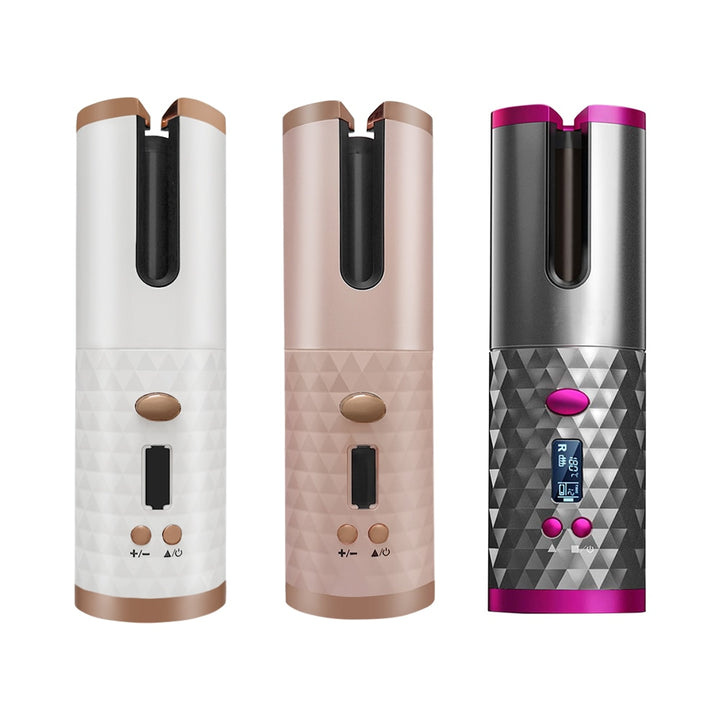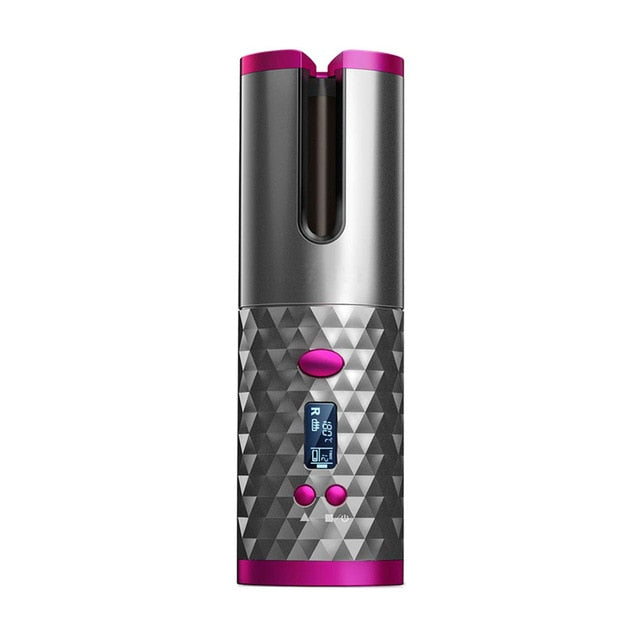 "Honestly, I am 100% shocked by this item. I am the type of person that cannot curl my hair with a curling iron, curling wand, or a straightener. This was SO easy to use. It heats up very quickly. The pics included are right after curled and then after I ran my fingers through it. This is without any products too! I am so happy I bought this"
Laura K.  ✅ Verified Buyer
On average, women spend 76 minutes getting ready every morning —with almost a third of that spent on their hair. That being said trying to get the perfect hairstyle each time is nearly impossible and often leads to frustration! Simplifying just one process can decrease stress while having the perfect look you desire. We all know how important it is to look our best because that's when we feel our best! 
Pro Hair Curl is the industry-leading wireless operation hair curler. With its super-fast automatic technology Pro Hair Curl allows you to wrap and create perfect curls in under 8 seconds! With a built-in rechargeable battery, the perfect curls can be made in an instant, anytime anywhere! Effortless hair curling technology is made simple and available for you to look your best always!
WHY WOMEN RAVE PRO HAIR CURL
 ✅ EASY TO USE ON THE GO: Pro Hair Curl offers a powerful 5000mAh Li-ion rechargeable battery creating unlimited freedom to create your own hairstyle at any time. One single full USB charge allows up to 60 minutes of working time.  Bad hair days are not an option!
✅ INTELLIGENT & SAFE CONTROL: Features 6 adjustable low heat settings with a maximum of 200 degrees, combined with 6 timer settings to ensure zero damage done to your hair, no matter if your texture is fine, fragile, or color-treated. Being energy efficient, Pro Hair Curl automatically shuts off after 10 minutes of no use.
✅ DISPLAY AND ROTATION:  Wide LCD allows a clear temperature, direction, and timer which allows for a more readable and convenient use. Utilizing the latest rotational technology, you only need to set the direction of rotation, add your hair into the curler, and watch the magic happen! 
✅ BECOME AN EXPERT AT HAIR: Pro Hair Curl was designed to be suitable for all hair textures. The Unique anti-scald design & automatic reverse rotation assists in avoiding any tangled hair problems.  Using different temperatures and timers, you can create wavy and curly hairstyles in seconds!
What's Included?
1 x Curler Can - Portable Wireless Automatic Hair Curler
    1 x Plastic comb
    1 x Storage bag
    1 x Instruction manual
    2 x Hairpin
    1 x Gloves
How to Use
Learn How to use Pro Hair Curl with this quick instructional video!
Have you ever wondered how did our favorite actresses or models get those picture-perfect curls? They seem to just take the breath out of anyone who sees creating attraction like no other.
Loose ends and damaged hair from curling irons have been a problem of the past but not anymore! For those who want voluptuous bouncy curls, Pro Hair Curl is a dream come true being the easiest most effective way to get guaranteed results.
100% Money-Back Guarantee
We believe our products are some of the best in the world. To back this up, we provide all customers with a 30-day RISK-FREE warranty.
We understand buying items online can sometimes be a daunting task and want you to feel certain that there is 
ZERO
 risk shopping at
GRAVTECHS®.