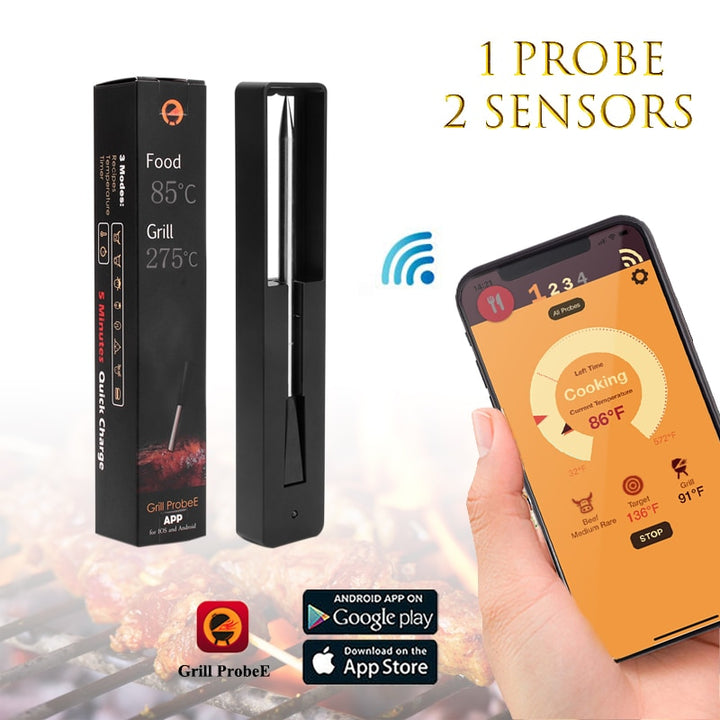 You know how hard it is to cook chicken breasts "just right"? A minute or two too soon and they are undercooked. A minute or two too late and they are dry and overcooked. No more. Used this on a baked chicken breast dinner last night and, for the first time in my life, perfect chicken cutlets. Great app to go with it. Love it.
Anita Chan. ✅ Verified Buyer
b
Good cooking is an art that combines skill and talent. Great chefs all over the world rely on tools and equipment to deliver an amazing culinary experience. Perfectly cooked meat will have everyone in your house begging for more, however, we all aren't professional chefs that can determine when the meat is cooked just right!
A lot of us go by the sight and smell of meat which creates guesswork often leading to overcooking or undercooking. 
The Grill Probe™ Meat Thermometer is the ultimate cooking tool eliminating the guesswork ensuring perfectly cooked meat each time! 
WHY CHEFS AND FOODIES RAVE ABOUT THE GRILL PROBE™
 ✅ ADVANCED ALGORITHM: Being a smart thermometer, the Grill Probe™ works efficiently through its FREE app. On the app, there are estimations on how long to cook your food to get the perfect result every time.
✅ GUIDED COOKING SYSTEM: The Grill Probe™ app walks you through every step of the cooking process to guarantee perfect and consistent results. You can set up notifications based on temperature and time as well as customized alerts for each feature on the app.
  ✅ SMART PROBE: The intelligent Probe has dual temperature sensors that monitor internal meat temperature and external stove/oven temperature. You can monitor 4 probes simultaneously on the app with a 33 Foot Range 
✅ ZERO WIRES: Traditional meat thermometers have wires that often time get in the way while cooking. This is a safety hazard as wires can catch on fire or overheat. Perfect for indoor and outdoor cooking!
MEAT THE GRILL PROBE APP
1. Download the FREE APP, Grill ProbeE, which is available on iOS and Android    
2. Charge the probe for about 1 hour (for better performance) before using. 
3. Insert the probe into the meat. Please mind that the insertion depth must beyond the safe line on the probe.
4. Press the ON button at the top of the probe, and then connect with the APP via Bluetooth.
5. Now set the temperature to 
Celsius or Fahrenheit degree.
And you can set the alarm type to Ring, Vibration, or both Ring and Vibration.
6. Set your Barbecue Mode Settings: 
Recip, 
Cook Degree, 
Timer, T
emperature
7. Get to Cooking!
v
 Effortless Setup
  Receive Notifications
 Cooking Assistance and Estimators
 Multi Dish Monitor 
We've all tried to make the perfect dish adding all the seasoning, marinating, and slow cooking for it to come out overcooked and a mess. Especially when preparing a dish for a large number of people you want everything to be perfect.
Look, we're all not world-class chefs, that doesn't mean we can't have world-class techniques and timing when it comes to our food. Being able to accurately monitor your food's temperature and the cooking process will dramatically increase the texture and quality of your meal. 
For those who want guests as well as yourself to scrape the plate for more, Grill Probe™ Meat Thermometer is an essential buy!
100% Money-Back Guarantee

We believe our products are some of the best in the world. To back this up, we provide all customers with a 30-day RISK-FREE warranty.
We understand buying items online can sometimes be a daunting task and want you to feel certain that there is 
ZERO
 risk shopping at
GRAVTECHS®.
How do I power the Grill Probe on and off?

The Grill Probe does not have an on or off switch; Assuming the Grill Probe has battery power (and the battery tab has been removed!) then removing the Grill Probe probe from the charger will turn the product on. Placing it back in the charger will turn it off.

How Do I care for my Grill Probes?

Make sure you do not go above the temperature limits of your Grill Probe probe.

These are 212F / 100c for the internal sensor 527F / 275c for the ambient sensor; Insert the probe all the way to the safety notch; Ensure your Grill Probe is kept dry and not too close to the heat source.

Are my Grill Probes dishwater safe?

Yes. We have been testing and have found no issues with durability or safety when it comes to putting your Grill Probe in a dishwasher. We still recommend hand washing your probes to get rid of any stubborn debris. 

What do the LED lights mean and how can I check my battery levels?

If the LED lights up green, the battery level is good. If the LED lights up red, the battery is low and should be replaced. 

To check the battery level of the probe; Connect to your Grill Probe via the app; On app Dashboard; Select 'My Connections,' and find the probe in the 'My Paired Probes' section.

My Grill Probe disconnected mid-cook, what should I do?

A common reason for disconnections during a cook is the distance between the probe and smart device. Moving the smart device closer to the cook may resolve your issue. We also have the following articles that cover how to improve your Bluetooth range.

 

How long does the Grill Probes battery last on a single charge?

A fully charged Grill Probe should last over 24 hours. If you're planning on performing a cook that will last over 12 hours we recommend you ensure that the probe has been charging for at least 6 hours beforehand.

Why is my Grill Probe not connecting at all? 

If your Grill Probe doesn't connect on its first attempts turn on your Geolocation as well as Bluetooth in your settings. If nothing works message us to get the problem resolved

Why is my Grill Probe no longer connecting?

If you have used your Grill Probe before, it's very important to make sure the flat metal square at the end is clean, as this is where the probe makes contact for charging. Residue from previous cooks may even look barely visible, which means that your probe may not have been charging since your last cook.

Should I be worried that my Grill Probe keeps disconnecting? 

You should be able to get a minimum of 10ft from your probe in the open air, but certain smokers/grills and ovens (the thicker the material and the fewer gaps for the signal to escape) will cause the range to decrease.